For over 3 decades, Drake Homes has built some of the finest Homes in East Central Illinois. As a family-owned custom home builder, were passionate about fulfilling the hopes and dreams of our homeowners. We believe everyone deserves a home that makes them feel secure and happy. A home they can be proud of to enjoy with family and friends, making memories for many years to come.
From our unique, flexible home designers to our superb craftsmanship to the quality assurance we build into each home, you can know that your new home will be built properly and built to last using the latest in technique and technology!
Build Your Dream Home On A Superior Foundation
At Drake Homes we use Superior Walls, America's leader in custom residential precast concrete wall systems. Superior Walls systems add value to today's new homes, while simultaneously increasing building precision, strength, and speed.
Superior Walls has been the world leader in custom residential precast concrete foundation systems since 1981. That's because building on a Superior Walls foundation provides architects, builders, and new home buyers with warm and dry added living space.
Today's smart home buyers care about creating comfortable lifestyles. Our products create comfortable living space, not just basement space, while lowering energy costs. That's why Superior Walls are in demand as the superior foundation for new custom homes.
Discover why Superior Walls systems are renowned for creating added value and durability for new homes. Discover what architects, builders and consumers are saying about building and living with Superior Walls: "…the highest quality…the most advanced…the strongest materials…precision design…the most efficient foundation on earth…the warmest and driest foundation…the most green…the Superior Advantage…!" Build with the advantages of this sensible, durable, and environmentally sustainable foundation system.Build on a Superior Foundation. Stronger. Warmer. Dryer. Greener. Simply Superior!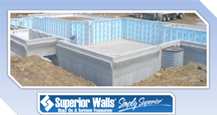 Engineered Lumber: The Green Building Solution
Laminated Veneer Lumber (LVL) is one of the most innovative and versatile building products available. It is used to make solutions for applications such as rim board, headers, beams, columns, wall framing, sill plates, and stair stringers.
When used as a part of the flooring system, wood I Beam joist can help floors stay quiet over time, reducing bothersome and costly call backs. Produced at a lower moisture content than conventional lumber, minimizing the effects of shrinking, twisting and warping that can lead to floor squeaks.
Providing the superior performance and durability of engineered wood, International Beams Laminated Veneer Lumber is perfectly suited to spans bearing heavy loads and multi-span applications.
The normal problems associated with increased lumber sizes-like decreased dimensional stability and uniformity-do not apply to our LVL, which utilizes ultrasonically tested and graded Douglas Fir veneer with evenly dispersed natural defects.