Drake Homes is always building within a 100 mile radius of Charleston, Illinois. Drake Homes will build on our lot or yours. Your choice of where to build is key to your future dream home. At Drake Homes we build near or far to accommodate your needs.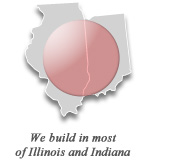 A sense of belonging is important—you may already have a community that you want your dream home built in. We will build your dream home there for you. Ultimately, we understand how important this choice is. If you have yet to choose a community, let us help you.
We Can Build Any Plan
Whether you have a plan you have desired to build for years or you found a plan online or in a magazine, Drake Homes is here to make them a reality. If you have ideas of what you want, Drake Homes has an in-house staff of creative designers waiting to move your dreams from your mind to the drawings which will make your dreams come to life. Drake Homes will build from your plan or ours.
We Build All Year Round
Drake Homes is starting new homes all year round. We are ready to start building your new home Any Time of the year. Appointments are made to meet your busy schedule.